Turn Disruption into Advantage
Overview
Companies across industries are facing ongoing digital disruption and need modern skills, methodologies, and tools to compete in today's digital economy. This is the time for the rise of nimble, lean, customer-centric and resilient enterprises
Most importantly, the need for digital fluency – the ability to understand business challenges and opportunities and combine that understanding with deep expertise in next-generation technologies is key to solving the dynamic business needs.
Join us for an evening to hear from our digital thought leaders, and practitioners and network with our evangelists to understand how to take a holistic approach to digital transformation – rather than focusing on one aspect, such as strategy, or product engineering.
Have a deep dive discussion on driving the overall digital agenda and solving real business problems by challenging the traditional consulting model through digital fluency, design thinking, rapid prototyping, problem-solving and creating innovative solutions at scale.
Agenda:
| Time | Session |
| --- | --- |
| 17:15 | Registration & Networking drinks |
| 18:00 | Session-1 Keynote session by Chander Damodaran , Global CTO at Brillio |
| 18:30 | Session 2: A practitioner's view |
| 19:00 | Seated 3 course dinner with wine |
| 19:50 | Panel discussion : Turn Disruption into Advantage |
| 20:30 | Program ends |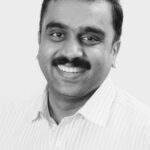 Chander Damodaran
Global CTO at Brillio
Chander Damodaran is the Global CTO at Brillio and a technology thought leader and evangelist focused on bringing in the right mix of business and technical competency to solve large business problems. He thrives in fuzziness and loves defining the blueprint for digital transformation with clear outcomes and elevated experience for Brillio's customers. He has over 24 years of diversified technical experience in architecting, solutioning, innovation and product development In his current role, he leads the innovation charter and establishes an engineering mindset within Brillio. He is a Computer Science Engineering graduate and member of "The Forbes Technology Council".